15,000 days together: on the 22nd, a publication to save with CANARIAS7
He next day 22 CANARY ISLANDS7 reaches its 15,000th edition and will celebrate it with the publication of a special supplement that reviews the milestones of those 15,000 days with readers.
Throughout 180 pagesthe reader will find a review of the main news of these 41 years of uninterrupted appointment with the public.
It was October 2, 1982 when the first issue of CANARIAS7 saw the light of day and since then the newspaper has been a notary of regional development.
In it special supplement Some of the covers are reviewed to remember and also the changes in information habits, with technology facilitating new media and interaction.
Among other contents, this publication includes an article by Juan José Laforet, official chronicler of Gran Canaria and the capital, in which the following passage can be read: «In our days, The case of the CANARIAS7 newspaper is established as one of the most eloquent chapters in the history of Canarian journalism. Through four decades, substantial in the future of the archipelago, through times and moments in which island life has been substantially transformed, in which that ancient aspiration for progress, for the search for the future, has not only been maintained, but that has greatly conditioned daily life, the newspaper has gone far beyond the obligatory and punctual chronicle, and has established itself as totemic iconwhere that plurality of voices, ideas, aspirations, reflections is collected that represents islanders, and even foreigners who make island life and expectations their own, and thereby fulfilling that initial aspiration of "…wanting to have voice, wanting to be born journalistically in a society like the Canary Islands that demands a plurality of voices because it demands a plurality of options.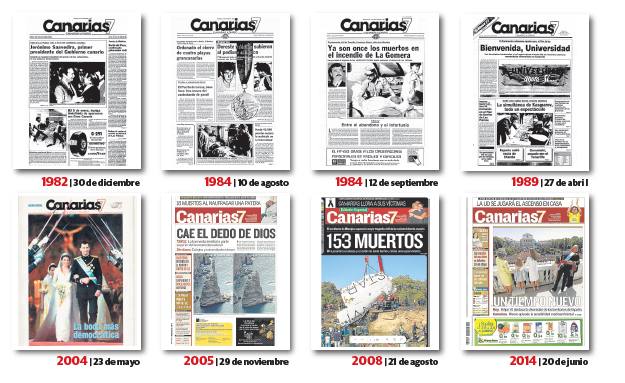 15,000 editions They also make clear how the newspaper, which appeared in 1982 amidst evident 'conditions, stimuli and wills' that demanded new media, has had to grow and congeal in a time between two centuries, in which there have been due face various and different stages, as Canarian society itself has faced them, since it has been a long period of changes, of transformations, and the newspaper has shown an enormous capacity to understand and adjust to these mutations of the society it serves 'with truthfulness and honesty', being a reflection of the general interest, of the Canarian identity itself.
The special supplement carries an editorial on its first pages that mentions how the commitment to rigorous information and plurality of opinions is reinforced in these times when technology has changed information consumption habits. Thus, the following is noted: «All that baggage is in the CANARIAS7 backpack and much of it is also collected in these pages. But we are aware that the credit of a media outlet is renewed day by day with readers. What's more, it is won or lost in a second, the time it takes for a reader to be satisfied or not with the information they are looking for or that they find in the digital edition or on social networks. Precisely that speed of digital format increases the foundational requirement that we mentioned before: commitment to the truth, that is, to rigorous information. That which is based on telling what happens, but also offering the context that helps understand the antecedents and possible consequences. That journalism that asks, cross-questions and warns readers when someone utters a falsehood. That, which in 1982 was taken for granted, is today a first-level democratic demand, since democracy itself can be diluted if we consider it normal for misinformation and hoaxes to make their way into the news space, cloud coexistence and "They finally dynamite coexistence."
--------------------
This news article has been translated from the original language to English by WorldsNewsNow.com.
You can visit the original source at the link below.
Original Source Link