2 more journalists died as a result of Israeli attack in Lebanon
The ongoing attacks in Gaza continue to affect Lebanon. Two journalists lost their lives in Israeli air strikes on Lebanon.
Lebanese television channel Al Mayedeen, known for its closeness to Iran and Hezbollah, announced that a reporter and cameraman working at the border died.
Following the death of Farah Omar and cameraman Rabih Maamari, images of their cameras bursting into flames were published.
Television Editor-in-Chief Bin Jiddo claimed in an interview that his reporters were specifically targeted in the attack. It was announced that one of the other civilians killed in the attacks was a journalist who "contributed" to the channel.
As Israel's attacks on the Iranian-backed Lebanese Hezbollah continue, Hezbollah is also responding. Hezbollah published a video stating that two burkan missiles were fired at its border.
Hezbollah announced that it attacked an Israeli police station with three unmanned aerial vehicles near the town of Kiryat Shmona in northern Israel.
In its statement, the Israeli army said that 25 bullets were fired from Lebanon, some were stopped and some fell into an open field, and there were no deaths or injuries.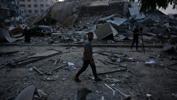 --------------------
This news article has been translated from the original language to English by WorldsNewsNow.com.
You can visit the original source at the link below.
Original Source Link