A doctor at a hospital in Ho Chi Minh City drove a car that caused an accident while drunk
TPO – After colliding with a motorbike, the car driver left the driver's seat in a staggered state, smelling of alcohol.
On November 21, District 10 Police (HCMC) is investigating a traffic accident between a car and a motorbike that just happened in the area.
Initial information, around 7:00 p.m. on November 20, a driver about 45 years old was driving a car with Ho Chi Minh City license plate on Cao Thang Street, heading from Dien Bien Phu Street to Hoang Du Khuong Street.
The scene of the accident. Photo: AX
Just past the intersection with 3/2 Street (Ward 12, District 10), this car collided with a motorbike with a Dong Thap province license plate driven by a girl. After the collision, the car rushed forward and pulled the motorbike for a distance. The accident did not cause any casualties, but cars and motorbikes were seriously damaged.
Upon receiving the news, the authorities were present to examine the scene and take statements from those involved to clarify. The male driver showed signs of intoxication and was taken to headquarters to serve the investigation.
Through initial verification, the male car driver is a doctor, working at a hospital in Ho Chi Minh City. After the accident occurred, the hospital cooperated with the police to investigate and clarify.
Previously, on the afternoon of November 12, Mr. Pham Cao Tri (39 years old, living in District 8) drove a car after consuming alcohol on Nguyen Van Tang Street (Long Thanh My Ward, Thu Duc City), causing an accident. The accident left an 18-year-old female student dead and two others injured.
After this incident, Thu Duc City Police and Ho Chi Minh City Police simultaneously launched a general inspection of vehicle drivers participating in traffic violations of alcohol concentration.
As a result, after 5 days, Ho Chi Minh City Traffic Police discovered and made records to sanction 291 cases of driving with alcohol violations; 11 cases of drug driving violations; 151 cases of drivers violating speed; 509 cases of other violations…
Drunk man kicked off a special traffic police motorbike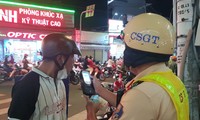 Total alcohol concentration test after a drunk driver hit and killed an 18-year-old female student in Ho Chi Minh City
Driver training center staff were accused of being drunk and colliding with people on the road
Minh Anh
--------------------
This news article has been translated from the original language to English by WorldsNewsNow.com.
You can visit the original source at the link below.
Original Source Link