A motorbike carrying 3 students crashed into the sea, 2 people died
TPO – While traveling in the area near the embankment of Hai Duong commune, 3 students residing in Hue City, because they did not know the road, drove their car onto loose rocks and fell into the sea.
On the morning of November 21, information from the People's Committee of Hai Duong commune (Hue city) said that a traffic accident had just occurred in the area, injuring 3 students.
The incident happened around 3 a.m. that same day. At that time, 3 students rode on the same motorbike to the intersection area of ​​the embankment of Thai Duong Ha Trung village (Hai Duong commune). Here, because they did not know the turn, the motorbike carrying the 3 students mentioned above climbed onto the rocky shore and fell into the sea.
Police protect the scene of the accident that left three students injured. (Photo: CTV)
Upon receiving the news, local authorities and people organized search and rescue efforts.
The identities of the victims were determined to include VCH (born 2010, residing in An Tay ward), LVL (born 2010) and N.D.MQ (born 2007, residing in An Dong ward, Hue city).
According to the leaders of Hai Duong Commune People's Committee, after the incident, H. and L. were taken to the hospital for emergency treatment, and Q. went missing. Due to serious injuries, L. did not survive. At 9:00 a.m. this morning, Q.'s body was discovered by the authorities and brought ashore.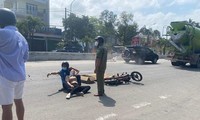 A heartbroken mother cried next to the body of her 10-year-old daughter who died in an accident
Causing a fatal accident and fleeing the scene
Clarifying the cause of the terrible accident in Hue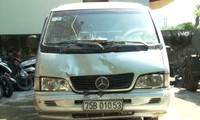 Causing a fatal accident and then fleeing
Ngoc Van
--------------------
This news article has been translated from the original language to English by WorldsNewsNow.com.
You can visit the original source at the link below.
Original Source Link