China's Top Diplomat Welcomes Arab Ministers For Talks On Gaza War Resolution
(CTN News) – The top Chinese diplomat met with their counterparts in Indonesia, four Arab nations, and China on Monday. He assured them that China will collaborate with "our brothers and sisters" in the Islamic world and the Arab world to swiftly resolve the conflict in Gaza.
To begin their tour of foreign capitals in Beijing, the ministers from Saudi Arabia, Egypt, Jordan, the Palestinian Authority, and Indonesia showed their support for the Palestinians and China's increasing geopolitical power.
The foreign diplomats' decision to begin in Beijing, according to Chinese Foreign Minister Wang Yi, demonstrates their great faith in his country.
In his opening remarks at a state guesthouse before their meetings began, Wang stated, "China is a good friend and brother of Arab and Islamic countries."
"The righteous cause of the Palestinian people has always had our unwavering support, and we have consistently protected the legitimate rights and interests of Arab and Islamic nations."
China has been vocal in its criticism of Israeli settlement expansion in the West Bank and has historically supported Palestinian causes.
Despite the United States and others labeling Hamas' attack on October 7 as a terrorist attack that killed around 1,200 people and ignited the war, it has refrained from criticizing the attack. Nevertheless, China's economic relations with Israel are on the rise.
Roughly three thousand terrorists crossed into southern Israel on October 7 from the Gaza Strip, killing everybody they came across—the vast majority of whom were innocent bystanders.
The assailants also kidnapped 240 persons, including children and the elderly, and brought them to Gaza to be held captive. This assault came as Israel was under constant rocket fire from Hamas and other terrorist groups, forcing thousands of Israelis to flee their homes.
In response, Israel initiated a military offensive and an aerial operation to topple the terror group running Gaza and rescue the hostages.
Prince Faisal bin Farhan Al Saud, Saudi Arabia's foreign minister, demanded an immediate end to the fighting and the delivery of humanitarian supplies to the Gaza Strip.
"We are still facing perilous developments and a pressing humanitarian crisis that demands a global response," he said.
He said that while they were grateful for the UNSC resolution requesting humanitarian pauses in Gaza, "we still need more efforts and cooperation."
Being the world's second-largest economy, China has recently—though cautiously—become more vocal about foreign affairs and engaged directly in a number of them.
Beijing took on a role often played by long-standing global powers like Russia and the United States when it helped arrange an accord in March that restored relations between Iran and Saudi Arabia after seven years of animosity.
Prince Faisal announced last weekend that a group of five foreign ministers would be traveling to various cities in an attempt to end the war, secure humanitarian relief for Gaza, and seek a truce. Furthermore, Hissein Brahim Taha, the secretary general of the Organization of Islamic Cooperation, will be joining them on their journey to Beijing.
At least 5,500 children and 3,500 women have been killed in Gaza since the conflict started on October 7, according to the Hamas-run Gaza health ministry. In addition to not distinguishing between civilians and Hamas members, the terror group's reported casualty toll does not account for individuals killed in failed Palestinian rocket attacks and cannot be independently verified.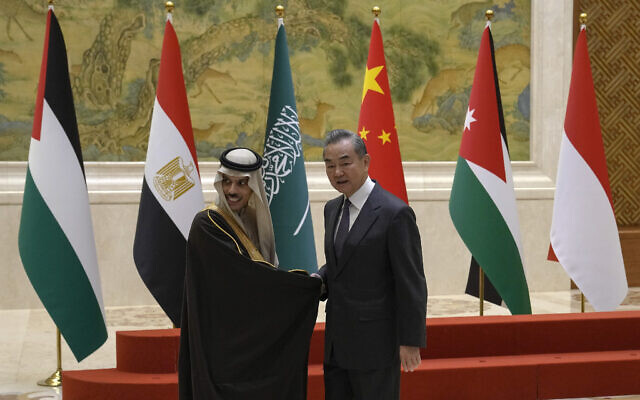 According to Riyad Al-Maliki, the foreign minister of the Palestinian Authority, "Israel's first war against the Palestinian people" has already occurred. Nevertheless, Israel is determined to end the Palestinian people's presence on the historical land of Palestine by claiming it as its own in this final conflict.
Monday, Irit Ben-Abba, Israel's ambassador to China, stated that her country is collaborating with international organizations to ensure that Gaza receives enough humanitarian aid. She further stated that "putting pressure on Israel in this regard is politically motivated and is not conducive to the humanitarian assistance which is needed."
Israel, she added, was hoping the Security Council would not reach a "one-sided" decision and would instead make a strong statement demanding the "unconditional release of the 240 hostages" kidnapped by Hamas "rather than calling for a ceasefire."
Antisemitism has allegedly increased sharply in China in the wake of the Hamas attack, mirroring global trends.
Reports surfaced earlier this month in The New York Times claiming that Iranian, Russian, and Chinese officials are use official and social media platforms to undermine Israel and the United States while assisting Hamas.
--------------------
This news article has been translated from the original language to English by WorldsNewsNow.com.
You can visit the original source at the link below.
Original Source Link