Golden ratio. Ksyusha Abukova needs surgery on her skull | Charity | Society
"We must live today, without postponing happiness until tomorrow. And you don't have to hide from problems, you need to solve them. Here and now," he says decisively Alina Abukova.
First, Alina found out that her youngest child had a congenital pathology of the skull, which could make a healthy, strong girl disabled. Then – that my husband is seriously ill with cancer. She doesn't tell how hard it was to be torn between three children and trips to cancer centers with Seryozha. Just sometimes trying to stop the trembling in his voice. It's still hard for her. My husband's illness subsided after two surgeries and 12 blocks of chemotherapy. But Ksyushin's problem right now confronted the family with a complex problem in the field of higher mathematics, the solution of which is dangerous to put off until tomorrow.
Disproportionately cut head. Some important "golden ratio" has been violated, which is responsible not only for beauty, but also for the health and life of the girl. "The doctor measured my daughter's head with a device that looked like a compass with spreading legs. From ear to ear, from the back of the head to the forehead. The dimensions of the skull are not normal. An operation is needed, it will be the second for Ksyusha," says Alina.
In the Abukov family from Cheboksary, everyone except Alina's mother is Capricorn. It just so happened – to give birth to children either on the eve or after the New Year holidays. When Alina and Seryozha found out that their daughter would also be a Capricorn, they were not surprised.
At the last screening, they were told the sex of the child and noticed that the girl had a non-standard elongated head, on which it really looked like a horn was growing. But no diagnosis was made for the newborn. Only six months later, the parents insisted on a CT scan of the skull, because the sharp back of the head and protruding forehead were already visible to the naked eye. It was then that craniosynostosis, a premature fusion of cranial sutures that causes the brain to shrink and flatten, was confirmed.
Ksyusha was operated on in Kazan. Within six months, Alina stood her sons next to her sister and meticulously compared their heads. Ksenia's forehead smoothed out and looked normal, but the back of her head remained sharp, and it seemed to be depressed above her temples. This meant one thing: the operation helped only partially; my daughter's brain was still under compression. The doctor measured all the parameters of Ksyusha's head with a special device, admitting that it was far from ideal. But then he added: "Does anyone point a finger at you or ask questions on the street? Live like this."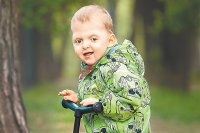 At that moment, the Abukovs had no choice. Sergei got sick. He took the tests, and Alina, who studied Latin at the philology department, translated the diagnosis even before the doctor announced it. Oncology. Three children, Ksyushina's disproportionate head, a mortgage ("after the birth of her daughter they decided to expand"), and now her husband's illness – everything came at once. Then the Abukovs decided to learn to be happy every day. Even if from the outside it seemed like, how happy are they now?
"I was then the chief architect of the project (I got a job after receiving a second higher education), Seryozha was the leading engineer of a construction company. Both gradually went away. I decided: even if I lose money in my new position, I will spend more time with my family and hug them once again," explains Alina.
Last summer, Seryozha finished his last chemotherapy, but the Abukovs didn't even have time to breathe calmly: Ksyusha began to have severe headaches. In Moscow, where Alina sent the documents, they confirmed that she needed surgery. Doctors will reshape the girl's skull and fasten its parts together with special plates. The operation is free, but unfortunately there are no plates.
So far, Alina doesn't know how to explain to her daughter why she needs to cut a path in her hair along the old seam. And I'm not sure that by the time school starts (and Ksyusha will go to 1st grade in a year and a half), the new scar will be hidden under the regrown strands. But she is sure that the most important thing cannot be put off until later. Right now it is important to sign up for the whole family in the pool. Today you need to build a dollhouse with your daughter, read a book to your sons, hug your husband. And helping Ksyusha is also important now.
You can't put off life or happiness until tomorrow. And a good deed too.
Expert opinion

Maxillofacial surgeon NPC named after. Voino-Yasenetsky Pavel Golovanev:
— The girl has a scaphoid deformity of the skull, which is characterized by an increase in the length and a decrease in the width of the skull. The child was operated on at the age of 9 months, but, according to CT data, there are signs of relapse of the congenital pathology. Surgery using bioresorbable plates is necessary to avoid repeated surgeries to remove them.
Help is needed
Ksenia Abukova (5 years old, Cheboksary) will be saved from headaches by surgery using plates for 880 thousand.
We help our heroes like this:
Send an SMS to 8910 with the donation amount in numbers, for example "150".
For regular donations: "month [пробел] amount" (for example: month 150).
Please do not forget to confirm the payment with a return SMS!
Service for subscribers of MTS, Beeline, Megafon, Tele2.
On the map – in the "How to help" section on dobroe.aif.ru.
For regular donations, check "Donate monthly."
Bank details: Charitable Foundation "AiF. Kind Heart" TIN 7701619391, KPP 774301001. Recipient bank: PJSC "Sberbank of Russia", Moscow, BIK 044525225, account number 40703810838090000738, account number 30101810400000000225.
By making a donation, you agree to receive informational messages.
Our phone number is 8 (916) 941-41-12
Thank you!
--------------------
This news article has been translated from the original language to English by WorldsNewsNow.com.
You can visit the original source at the link below.
Original Source Link