Kyiv weather – the date when the temperature in the capital will drop to -9 has been named – UNIAN
According to forecasts, this cooling will be short-lived.
A sharp cooling is expected in Kyiv this week, which will be accompanied by precipitation. However, this cooling will be short-lived – already on the weekend the temperature in the capital will again be positive. This is evidenced by the data of the Ukrainian hydrometeorological center.
In general, according to forecasters, dynamic weather conditions are expected in Kyiv region this week.
"On Wednesday, our territory will be under the influence of an atmospheric front, so we expect the first snow," forecasters say.
According to their data, Thursday night will be the coldest, because the temperature will drop to -7…-9°.
"However, the wind will also increase, there will be a change in air currents, and the temperature indicators will again rise to positive values ​​at the end of the week," the Ukrhydrometeorological Center predicted.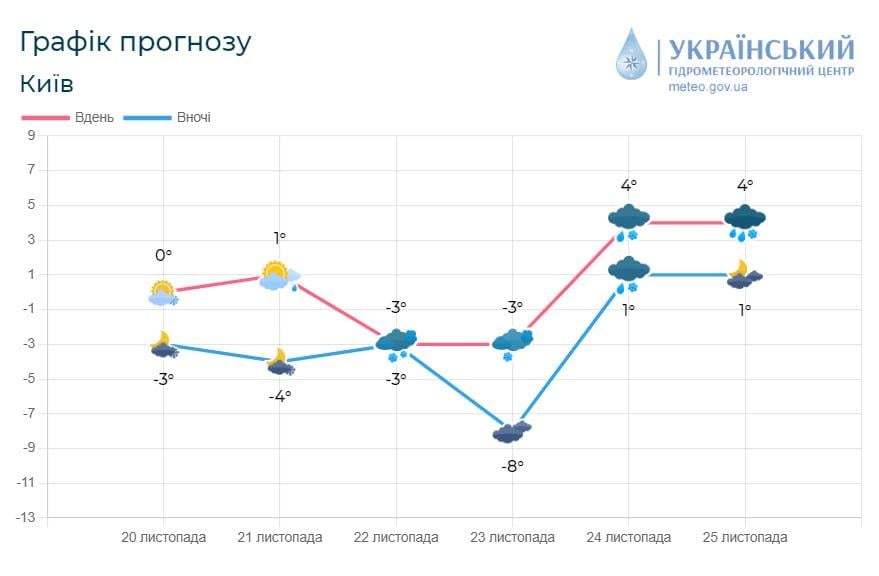 Deteriorating weather in Ukraine
A strong cooling is expected in Ukraine this week. The coldest nights in Ukraine, according to forecaster Natalya Dydenko, will be November 22 and 23, when the temperature will drop to -5…-12 degrees, and in the north and northeast it is possible even to -12…-14 degrees. And on November 25-26, according to her data, another active cyclone will break into Ukraine with rain, wet snow and strong wind.
You may also be interested in news:
--------------------
This news article has been translated from the original language to English by WorldsNewsNow.com.
You can visit the original source at the link below.
Original Source Link