Latest developments in the Gaza war
Twenty-eight premature babies evacuated from Al-Shifa Hospital in the Gaza Strip. were taken to the Egyptian side through the Rafah border crossing. as Israel attacks new hospital in the north At least 12 more people died.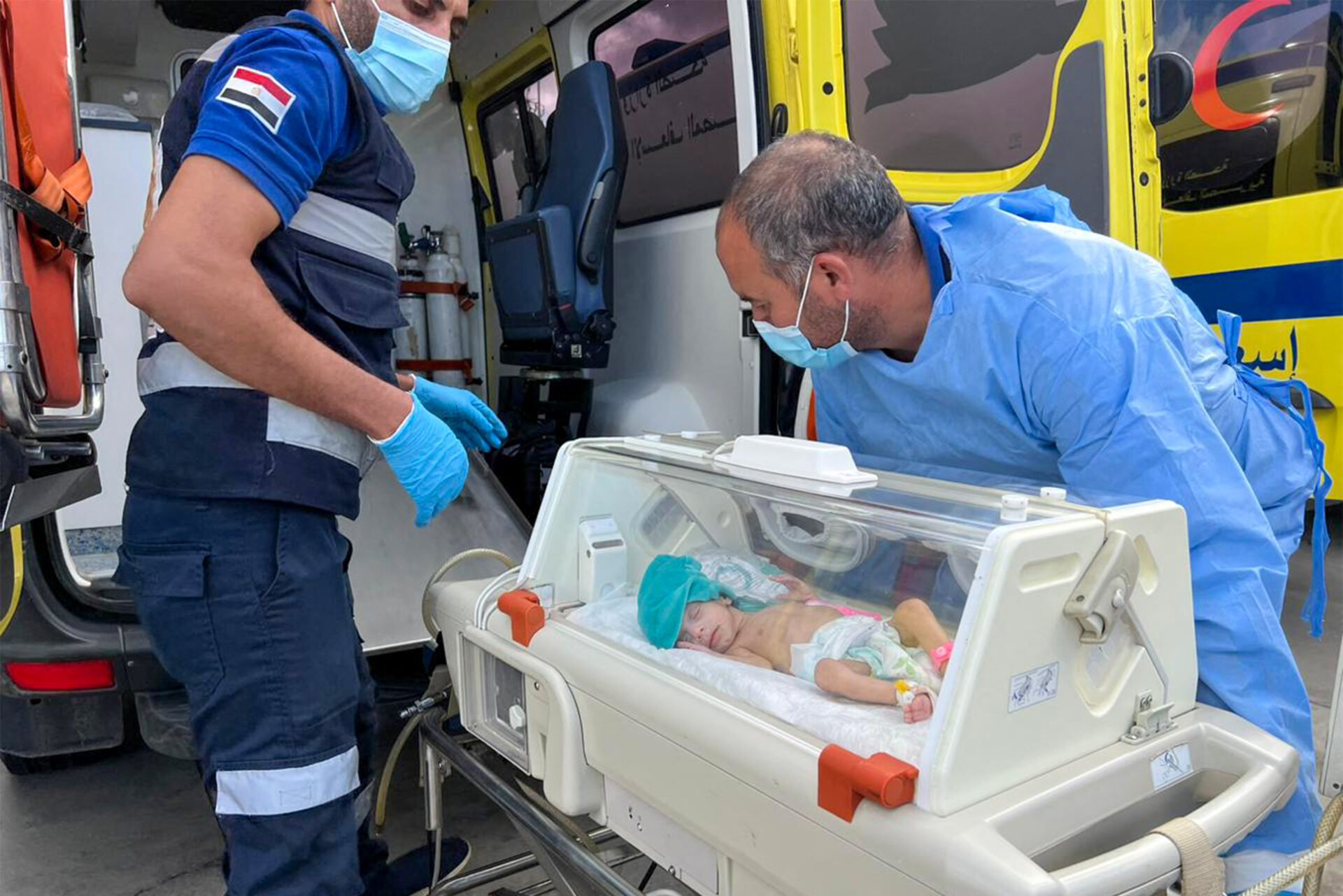 An Egyptian doctor carts a premature Palestinian baby evacuated from the Gaza Strip to an ambulance on the Egyptian side of the Rafah border on November 20, amid ongoing fighting between Israel and Hamas. (Photo by AFP)
AFP reports on Tuesday, 21 November 2023, said that fierce fighting in Gaza continues. Among the losses on the side of Israel, Hamas and the Palestinians. The total death toll stands at 14,500, including at least 5,600 children, and 240 more hostages are yet to be released.
The World Health Organization states that Twenty-eight premature babies were evacuated from Al-Shifa Hospital in the Gaza Strip on Sunday. They were taken to safety in Egypt through the Rafah border crossing. Ready to update that Many of these babies are battling serious infections and will continue to need health care. While the Israeli army claims They have helped facilitate this move.
The Hamas-run Ministry of Health in Gaza said on Monday that Israel had attacked a northern Indonesian hospital. and killed 12 people and injured dozens more. About 700 people remain under siege in the hospital.
Palestinian officials said Jordan's field hospital arrived in Gaza on Monday. This is considered the first field hospital since the outbreak of the war.
According to Hamas An estimated 30,000 people are injured across the Gaza Strip. And now most hospitals are no longer functional.
Mohammed Sakut, director general of hospitals in the Gaza Strip, said: A field hospital will be set up in the southern city of Khan Younis to accommodate injured and sick people evacuated from the north, with a capacity of 41 beds, 170 personnel and 40 medical aid trucks.
Lebanon's Hezbollah group says They launched a series of attacks on troops in northern Israel using drones, artillery and missiles on Monday. This has resulted in daily clashes on the Israeli-Lebanese border since the Israeli-Hamas war began.
As the Israeli army said: No injuries were reported in the latest attack. It also counters Hezbollah with missiles, tanks, warplanes and helicopters.
US President Joe Biden remains confident in the deal to release the Gaza hostages. and stated that it should be completed soon Meanwhile, hopes are growing over a Qatar-mediated agreement to exchange some hostages for a temporary truce.
The post Latest developments in the Gaza war appeared first on .
--------------------
This news article has been translated from the original language to English by WorldsNewsNow.com.
You can visit the original source at the link below.
Original Source Link