Shock and uncertainty in Argentina after Milei's presidential triumph
His victory was expected, but this was a resounding triumph. On Sunday, November 19, supporters gathered in front of ultraliberal Javier Milei's Buenos Aires HQ roared out "Freedom! Freedom!" repeated like a mantra, waving Argentina flags and yellow banners stamped with a lion – their candidate's symbol – in the air. Milei, 53, a member of parliament for the La Libertad Avanza ("freedom advances") coalition, who has been involved in politics for just three years, was elected president of Argentina in the second round of the presidential election. The scale of his victory was both resounding and unprecedented.
The self-described "anarcho-capitalist" candidate took 55.7% of the vote, in a country governed for decades by two structuring forces, Peronism (named after General Juan Domingo Peron, president between 1946 and 1955 and again between 1973 and 1974) and anti-Peronism. His rival, current Economy Minister and Peronist candidate Sergio Massa, won only 44.3% of the vote, almost three million votes less than Milei.
"Today begins the reconstruction of Argentina. Today begins the end of Argentina's decline," Milei said in his victory speech, vowing, "a limited government, respect for private property and free trade. The model of decadence has come to an end. There is no way back." Promising "drastic changes," Milei vowed "Argentina will return to the place in the world which it should never have lost." His warning was clear and his economic proposals were radical: "There is no room for gradualism, half-heartedness or half-measures," he thundered. "If we don't make structural changes quickly, we're heading straight for the worst crisis in our history."
Abortion ban
His extreme and controversial proposals include replacing the national currency with the dollar, drastically cutting public spending, banning abortion, liberalizing arms sales, and breaking off diplomatic relations with Brazil and China.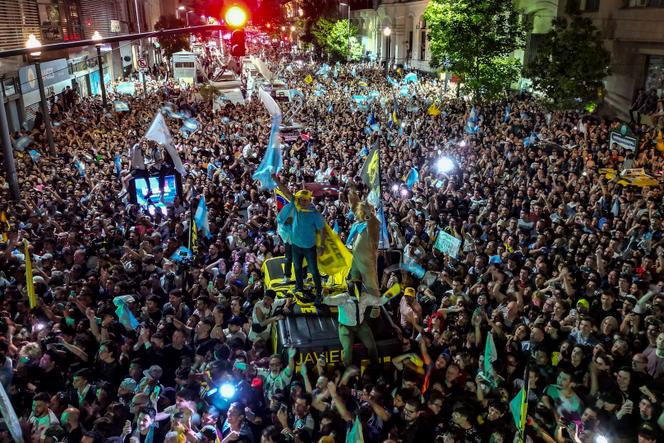 Abandoning his usual vindictive tone, he also issued for the first time an invitation to "all those who want to join the new Argentina," including politicians, before concluding his speech with a salvo of "Long live freedom, damn it!" his favorite slogan, shouted in a rocker's gravelly voice.
Milei benefited from an almost arithmetical carryover of votes from Patricia Bullrich, the right-wing candidate who came third (24%) in the first round, on October 22. Shortly after her defeat, she decided to lend her support to the ultraliberal, an alliance headed by former president Mauricio Macri (center-right, 2015-2019). This decisive support for victory, but also the need to convince more than just his core voters, had prompted Milei to tone down his rhetoric before the second round, even contradicting himself, by promising, for example, the sustainability of public health and education, without giving further details.
You have 65% of this article left to read. The rest is for subscribers only.
--------------------
This news article has been translated from the original language to English by WorldsNewsNow.com.
You can visit the original source at the link below.
Original Source Link